Opening Friday 27 October 6pm - All Welcome!
The Walker & Hall Waiheke Art Award 2023 is proudly sponsored by Walker & Hall in association with the Waiheke Community Art Gallery. This is a National Award for two dimensional works in any medium and has a Prize of $10,000 as the Premier Award.
The Award recipients this year are:
Premier Award: Mike Crawshaw - Last Rites, oil on canvas
Zinni Douglas Merit Award: Daisy Saaiman - Ma & Pa, acrylic on board
Michael Evans Award for a figurative work: Ashlee O'Hagan - The Good Gift, oil on canvas
Gordon Harris Award: Matthew Carter - Rain at Britomart, oil on board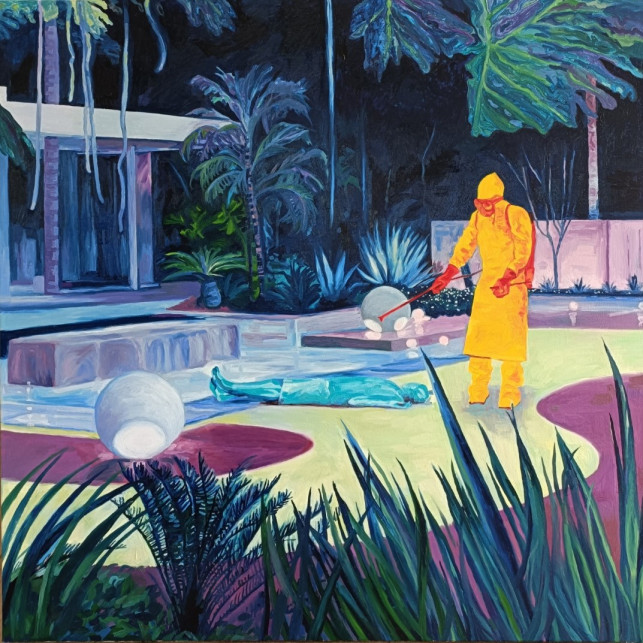 Mike Crawshaw - Last Rites, oil on board
Congratulations to the Award winners and all the finalists.
The selector and judge this year was Lonnie Hutchinson.
Lonnie Hutchinson, Ngati kuri ki Ngāi Tahu, Samoan (Faleilili) and Celtic descent, was born in Tāmaki Makaurau Auckland and lives in Ōtautahi Christchurch.
Hutchinson is interested in the ideas associated with humanmade physical constructs or architectural monuments in the landscape and the relationships between people and these constructions within the physical and spiritual realm.
Hutchinson is highly regarded both for her contribution to the visual arts as an exhibiting artist and her often large-scale public artworks. Recent permanent public art works commissions include Aroha ki te Ora at the Britomart Precinct in Tāmaki Makaurau; Kahu Matarau and Pikihuia e te au, e te pō commissioned by the Ministry of Justice for the Justice and Emergency Services Precinct development in Ōtautahi; and Honoa ki te Hono Tawhiti for the Auckland Art Gallery Toi o Tāmaki redevelopment. Hutchinson is also sought after for her contribution to leadership roles. She is a founding member of Paemanu Ngāi Tahu Contemporary Visual Arts, and previous Chair and current board member for Tautai Pacific Arts Trust.
The finalists this year are: Susan Badcock, Kirsty Black, Caroline Burton, Cathy Carter, Matthew Carter, Jamie Chapman, Mike Crawshaw, Jo Dalgety, Rebecca Hawthorn, Amanda Hewlett, Cruz Jimenez, Judith Lawson, Agata Leszczynska, Maggie McGregor, Judith Milner, Deborah Moss, Vanessa Narby, Ashlee O'Hagan, Paul Radford, Daisy Saaiman, Annie Smits Sandano, Katie Trinkle Legge, Debbie Tubb, Uliai, Brigitte Valentine - Quick, Michael Walker & Ellen Johansen, Amanda Wilkinson.
Submissions have now closed.
Download an Information Form Here
Key Dates
Friday 7 July: Entries Open
Monday 4 September: Closing date for Entries
Friday 22 September: Artists advised of selection results
Friday 13 October: Selected works received at the Gallery. Gallery Hours 10am - 4pm, 7 days.
Friday 27 October: Exhibition opens 6pm
Saturday 28 October: Awards night and Gala Dinner at Cable Bay Vineyard
Sunday 10 December: Exhibition Closes 4pm. Unsold works available for collection
Criteria
The exhibition is open to any New Zealand resident upon payment of entry fee (non refundable) $55. Entry requires one work per artist. Every work must be original, the sole work of the artist and not completed in a class of instruction, must have been completed within the last year and must be for sale.
Generously supported by the Waiheke Local Board, Skin Institute Waiheke, Gordon Harris and Cable Bay Vineyard.
Artist Entry